Cortona and surroundings
La Bella Cortona is set in charming green surroundings at the foot of Cortona, an ancient Etruscan town. The farmhouse is ideally located to visit all major tourist destinations in Umbria and Tuscany Toscana such as Florence, Montepulciano, Siena, Assisi, Pienza, Perugia, Gubbio and many others. In the 12th and 13th century Cortona was a prosperous free commune. After coming under the rule of the Casali family, Cortona was established as a bishop's see in 1325 and eventually became part of the Florentine State in 1411. Cortona has been the birthplace of several distinguished men such as Luca Signorelli, Frate Elia Coppi, Pietro Berrettini, Gino Severini, just to mention a few.
Today Cortona, with its sandstone buildings and its steep, narrow alleyways affording stunning views of the valley below, has preserved its medieval appearance to a remarkable extent. The town hall building was originally built in the 13th century. The former residence of the city rulers and current home of the MAEC museum, the Palazzo Casali had its façade renovated in the 17th century to designs by Filippo Berrettini.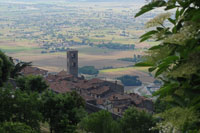 The town also displays remarkable Renaissance buildings such as the sanctuary of the Madonna delle Grazie al Calcinaio; built to designs by Francesco di Giorgio Martini just outside the town walls, the Church has a Latin cross plan and a stunning octagonal dome.
The cathedral was built on the former site of the Romanesque parish Church of S. Maria. From its high perch the imposing Medici fortress dominates the town. Just below the fortress, the basilica of Santa Margherita houses the incorrupt body of the Saint who died in 1297.
The town boast remarkable museums including the Maec museum and the Museo Diocesano housing masterpieces by Luca Signorelli, Beato Angelico, Bartolomeo della Gatta, Sassetta, Pietro Lorenzetti as well as a rich collection of vestments.